Soin-et-Nature Loyalty Program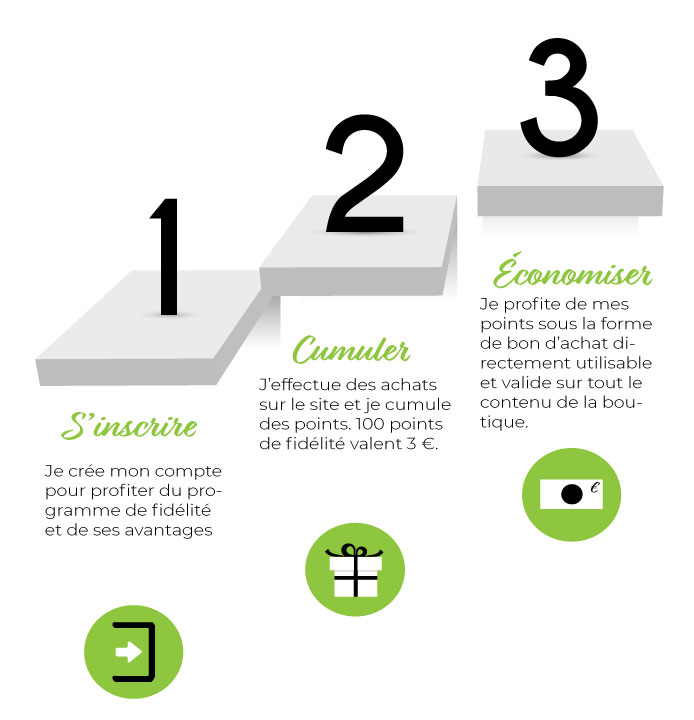 How it works ?
Free and from your first purchase of parapharmacy products, this loyalty program rewards you all year round for your purchases made on the store. You then have access to vouchers valid throughout the site (excluding drug orders).
Our loyalty program has been designed and is specifically aimed at retail customers . This reward system allows them to benefit in a tangible way from their loyalty to our platform. This is a way for us to thank our customers for their continued trust in our services.
How to save with your loyalty points?
To thank you for your first order and your future purchases, we have set up a loyalty points program called: "Your loyalty rewarded".
Our loyalty points program is simple: when you make purchases on care-and-nature.com, you earn points for each euro spent. Once you have acquired your loyalty points, you can use them to pay for your future purchases.
Program operation
When you place an order, the total amount of this order (excluding shipping costs) will be used to calculate the loyalty points acquired. These are added to your loyalty point account as you shop.
All loyalty points are registered in your "Your loyalty rewarded" account and will remain there until they are validated and confirmed by care-and-nature.com.
Loyalty points will be added to your account with their value in euros, upon validation. You can then use them for your purchases.
Your identification is essential to view your loyalty points account under the heading "My loyalty points".

All prescription drugs sold in the "Medicines" category are excluded from the loyalty program, in accordance with the provisions of the decree of June 20, 2013 .
Acquisition and value of points
Currently, for each euro spent on the site, you earn a Loyalty point.
Example: Total price of the products in your basket including VAT (excluding shipping costs): €100.00
Number of points credited: 100 points
Value of points credited: €3.00
We reserve the right to modify the rules at any time without notice. These regulations will always remain the ones in force.
Loyalty Program Exclusions
Soin-et-nature is an online pharmacy, specializing in the sale of non-prescription drugs and natural parapharmacy products on the web. Medicines , due to their particular nature and their potential for danger in high doses, are distinguished from other products available on the market. In this context, our responsibility is to ensure the health of our customers and to respect the law which prohibits us from associating our loyalty program with the sale of medicines . This action is in fact perceived as an incentive to take drugs, a situation that we want to avoid at all costs.
Consequently, you cannot accumulate any loyalty points for the purchase of originator or generic medicines and homeopathic medicines .
It is essential to underline that the Soin-et-nature loyalty program also does not apply to veterinary medicinal products and products associated with the same category. These purchases do not offer the possibility of accumulating loyalty points. Thus, this restriction, like that applied to medicines, is imposed in the interest of our customers, in order to guarantee the responsible use of the products that we sell.
Accumulation of Loyalty Points
However, it is possible for you to accumulate and use your loyalty points on parapharmacy products available on our platform. These are the only items eligible to accumulate loyalty points, providing our customers with the opportunity to receive additional benefits when shopping.
At Soin-et-nature, we are committed to promoting the responsible use of medicines by avoiding associating them with our loyalty program. Although this may seem restrictive, it is a necessary step to ensure the safety and well-being of our customers, while respecting the legislation in force. It is thanks to these efforts that we can continue to offer quality services and guarantee the satisfaction of our customers.
Use of loyalty points
If you have earned loyalty points, you can use them for your purchases.
You can convert your "Soin-et-Nature" loyalty points at any time. You will then obtain a reduction code or voucher for an amount corresponding to your accumulated loyalty points. You will only be able to use this reduction code once the 14-day period has passed from your last order (withdrawal period).
Before validating your order, on the summary page of your shopping cart , you can enter one or more reduction code(s) in the box provided for this purpose .
You will have to choose an additional payment method in the event that the discount code does not cover the total cost of your order.
Once your order has been confirmed, the "loyalty" reduction code( s) used will be automatically deleted from your customer account.
NB For each purchase paid for with points, you will earn loyalty points only on the amount paid by any means of payment other than loyalty points.
Time limits for using points
Your loyalty points, once converted into a discount code, can be used within 1 year (12 months)
Minimum points required
Currently, no minimum balance is required to redeem points. You will have to choose an additional method of payment in the event that the number of points does not cover the total cost of your order.
Minimum purchase amount required
Currently, there is no minimum amount required to redeem points.
Maximum number of points usable per purchase
Currently, we do not limit the maximum number of points that can be used per purchase.
Loyalty points on promotional products
When calculating points earned, all promotional products are excluded.
Terms of use
Loyalty points are valid only for members of care-and-nature.com.
They are non-refundable, cannot be exchanged between customers and are not exchangeable or transferable for cash under any conditions.
Of course, they will not be awarded in the event of a canceled order.
When you pay for your purchases with loyalty points, you will have to choose an additional payment method, if the number of points did not cover the total cost of your order.
When calculating the amount of points earned, shipping costs are always excluded from the calculation.
Newsletter subscription and free Ebook
Subscribe to our newsletter and receive an ebook as a welcome gift on natural remedies.